Show Notes: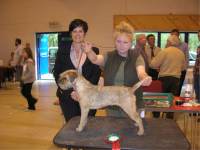 Nogard Take Ten)
Judge Mrs Tina Morgan (Blewecourt).
B.O.B. Nogard Take Ten. J.A & E.H Evans.
R.B.O.B Caznray Double Trouble. S Richie.
The Terrier Group has the most vulnerable breeds therefore it is imperative that we support Terrier Group Shows like the Terrier Club Of South Wales. The Chairman explained that exhibitors were up in the 400?s in 1988 and the entries today was under half that. However, the hospitality shown to the judges and exhibitors is always superb at this wonderful show and I thoroughly enjoyed the day. Unfortunately this show clashed with a championship show but I still had the privilege to judge some quality dogs. Thanks must also go to my very competent steward Rachel Larner.
h3.Puppy (o entries)
Graduate Dog ( 1, 1abs)
Open Dog ( 3, 2abs)
1st. Richie ? CAZNRAY DOUBLE TROUBLE.
Grizzle dog good otter head with strong muzzle & jaw albeit a little heavy in ear. Straight front, good shoulders , narrow rib and strong loin. Good level top line both standing and on the move with racy hindquarters and tail well set on. Short harsh coat with good pelt and moved well. R.B.O.B
Graduate Bitch (3)
1st. Evans ? NOGARD TAKE TEN
Lovely headed feminine red grizzle bitch with keen expression, strong muzzle and under jaw. Good shoulders, narrow rib, good topline both standing and on the move and good angulated hindquarters which she used to drive from. Fit bitch with good bone and excellent harsh coat and good pelt. Showed herself well today, was a pleasure to award her B.O.B.
2nd. Taylor – LUTRABECK LAYLA
3rd Scale ? DORAMIL BURNISHED BRASS
Open Bitch (5, 3abs)
1st. Scale ? DORAMIL CAMORRA
Grizzle bitch with feminine expression, broad skull and good strong muzzle. Good neck and shoulders with narrow rib and good tail set. Lacking in coat today and finer in bone than the winner. Moved and shown well.
2nd. Morgan ? LLANBADOC JESSICA WIGMO
Junior handling.
Class 6 ? 11 years. (1)
1st. Leah Prosser (10 years)
First time Leah has ever competed in Junior handling and the first time she had met her exhibit. Considering this, Leah did remarkably well. Leah made good eye contact and listened to what she was asked to do. Leah presented herself ok and it was clear that she enjoyed handling her exhibit and was very gentle and tolerant with it. She impressed me that she did not panic and kept calm which in turn made the dog show well. I?m sure with practice and tuition she could do well.
Class 12 ? 16 years (3, 1 abs)
1st Libby Jones (12 years)
I tried to give this very competent young lady a good run for her money but she was not a push over by any means. Libby had great ring presence and it was clear from the offset that she was a seasoned handler. Libby made good eye contact and smiled which told me she was enjoying herself, which in turn would go down the lead to her exhibit. Libby was smartly dressed and had an adequate knowledge of the breed she was handling. Libby was an excellent handler, attentive, confident and showed her exhibit to its best. It was a pleasure to award her best junior handler which is also a qualifier for Richmond.
2nd Max Jones (12 years)
Max also showed great ring presence and is very clearly a very competent handler. Max was smartly dressed and made good eye contact, although at times nerves got the better of him or it may have been where he was concentrating too hard where his knowledge suffered. Max has great potential and I?m sure he will give the others in his class something to worry about in the future.