Show Notes: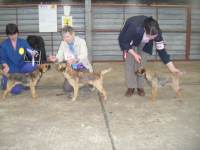 to R, BP, RBOB, BOB)
Venue: Three Counties Showground,
Judge: Mrs Trudi Baird (Dowgri)
BOB

, Achnagairn Code Name Glebeheath (Mrs J Guvercin)

RBOB, Rhozzum Flint (Mrs M Sharp)

BP, Rhozzum Down to Earth (Mrs M Sharp)
Puppy ,4 (2)
1st Rhozzum Down to Earth ( Mrs M Sharp)
8 month grizzle and tan male ,nice size, liked his length of rib and lithe body ,good jacket and pelt pleasing head and expression ,correct bite, super neck and shoulder , front straight and enough bone, v good top line & tail set, well made & angulated quarters ,moved out true ,with more confidence a promising prospect . BPIB
2nd Dandyhow Gardeners Delight ( Mr T jones)
Junior 2 (1)
1st Intack Red Admiral (Mrs V Waldron)
13 Month G/T male correct size and spannable, good head and expression with a lovely kind eye, correct bite, pleasing neck and shoulder, correct for bone, feet could be tighter , spanned with ease, in full but harsh coat with good thick pliable pelt, moving a bit close going away, a nice honest Border with a happy outlook.
Post Graduate 2(1)
1st Sweet Dreams Beauty of Rhozzum (Mrs M Sharp)
2 yr G/T bitch , V pretty otter head with little stop ,good bite, very pleasing through neck and shoulder , good length of body , ribs well back , correct underline, moved soundly and with verve on small neat feet, tail set & carried well , just lacked coat & condition today, very appealing handy sized bitch.
Limit 6 (4)
1st Rhozzum King Pin (Mrs FJ Matthews)
3 yr G/T male ,masculine spannable dog, loved his length of body and scope making a gorgeous outline, ribs well back and strong loin, so well off for bone with good straight front , he had a good head & the biggest teeth with plenty of width across his mouth ,so sound on the move, today he was growing a new jacket . Liked him very much.
2nd Tilmoray Tranquility (Mrs M Small).
Open 7 (3)
1st Achnagairn Code Name Glebeheath (Mrs J Guvercin)
Quality 2yr grizzle bitch , very appealing for type , lovely head and expression , good bite with lovely white teeth , neat well set ears , nice length of neck , straight nicely boned front with neat feet ,good body length , well set neat tail , good backend with just the right amount of angulation , coat nearly there, good pelt , easily spanned, in super condition , lovely outline stood and on the move, faultless movement, liked her very much , Best of Breed.
2nd Rhozzum Flint (Mrs M Sharp) Reserve Best of Breed
3rd Intack Blue Pearl (Mrs V Waldron)
4th Badgerbeck Tree Pipit at Timoray (Mrs M Small)