Show Notes: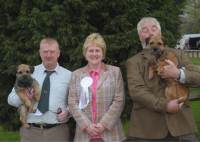 with Judge & BOB)
Venue: Birtley Leisure Centre
Judge Mrs Joyce Martin (Merumhor)
BOB

, Foxcraig Jester (Mr G Sugars)

BOS, Bramblebrae Violet (Mr G Wildey)

BP, Bramblebrae Violet (Mr G Wildey)

I would like to thank the club for the kind invitation to judge the border terrier classes at this show. It was indeed a great privilege to do so. and I was delighted with the super entry of 52 dogs for the five classes. Thank you to all the exhibitors who had entered and made this a very special day for me to remember and giving me this opportunity to go over their dogs. Unfortunately the ring was small making it difficult to properly assess the movement.
Puppy
Entries: 14 Absentees: 5
1st: Bramblebrae Violet (Mr G Wildey) Nice sized blue / tan bitch that has a good strong head, with a sweet feminine expression and in good coat with thick pelt. She is well balanced with a super outline and moved soundly round the ring. She really showed well for one so young. BOS & BPIB PG3
2nd: Beaconpike in a Storm (Mr & Mrs S Golding) Another nice red bitch with a super otter type head and keen expression shown in good thick coat and pelt. She is a taller bitch than the winner and has a nice narrow front. She lacked confidence in the ring, making it hard work for her handler.
3rd: Alcumlow Miss Sixty at Riseburn (Miss C Tutin)
Res: Beaconpike Night Sky at Brackenfell (Mr C Hall & Miss L Ellis)
Junior
Entries: 6 Absentees: 3
1st: Outherside Minty?s Pride (Mr RW Scott) A good sized grizzle/tan dog with a good head and keen expression. In full coat he moved and showed well for his young handler.
2nd: Beaconpike Red Saturn (Mr & Mrs S Golding) Another g/t dog similar in type to winner. Liked his strong head and narrow front. Shown in thick coat and pelt. Unfortunately he did not show himself today.
3rd: Golden Rosa at Blackmine (Miss T James)
Graduate
Entries: 12 Absentees: 1
1st: Brumborder River Skipper ( Mr G Wildey) G/tan dog shown in full thick coat with a strong head and great expression with keen dark eyes. He has a lovely outline and moved freely in the ring.
2nd: Howthwaite Amber Grain (Mr & Mrs R Barrett) A lovely grizzle bitch with tight new coat. She has a strong head and a keen varminty expression. She has a well balanced shape and lovely topline
3rd: Buck Swifter (Mrs A Swindle)
Res: Carrickfarm Mika (Mrs V M Armstrong)
Open – Dog
Entries: 13 Absentees: 7
1st: Foxcraig Jester (Mr & Mrs G Sugars) A rich g/t dog who caught my eye when he entered the ring. He has a strong typical border head and expression. He is in tip top condition with tight coat and thick pelt. He is well muscled and kept his tail wagging throughout obviously enjoying his day out. He moved well and was every inch a workmanlike border terrier. I was pleased to award him BOB . I was delighted to see him win the group.
2nd: Foxcraig Magic Max at Tyneaster (Mrs S F Gill) Another rich g/t dog from the same kennel. He has a good head and expression and built on the same lines no.1 with good thick coat and pelt.
3rd: Minx's Diamond (Mrs M Anderson)
Res: Badgerbeck Beau Geste for Buckwilde (Miss M Willis)
Open – Bitch
Entries: 8 Absentees: 3
1st: Riseburn Roulette (Miss C Tutin) Nice sized g/t bitch shown today in good thick coat and pelt. She has a lovely feminine expression and is well balanced with a nice outline.
2nd: Irton Strawberry Fair at Howthwaite (Mr & Mrs R Barrett) G/t bitch with a strong head and good expression. A slightly bigger bitch than no.1 with a lovely top line and sound movement. Shown in a tight coat.
3rd: Foxcraig Magic (Mr G Sugars)
Res: Carrickfarm Maddy (Mrs V M Armstrong)