Show Notes: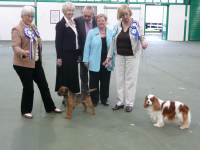 Hornblower JW ShCM BOB, G1 & BIS)
Venue: The Kennel Club Building, Stoneleigh Park
Judge: Felicity Freer
Group Judge: Gill Reeve
BIS

Judge: Michael Quinney
Foxfactor Hornblower JW ShCM
BOB

, G1 &

BIS

Benattivo Gem Stone For Daluce BP & PG4
Puppy
Entries: 5 Absentees: 3
1st: Mr & Mrs H M Thomas, Benattivo Gem Stone for Daluce ? 8 ½ month old grizzle bitch. Good head, dark eye, super big white teeth. Lovely neck, well laid shoulders, easily spannable. Good length of rib and body, strong loin and hindquarters. Moved true and like a real show girl. Well presented and handled. I am sure will have a good future ahead of her. BP, PG4.
2nd: Mrs P Clark, Southash Blue Betty Boo Gameway NAF ? 6 ½ month old blue and tan bitch, her first show. Strong head and expression, ears close to cheek. Lovely outline and in super coat. Just felt one was a bit more together today. Two lovely puppies to go over and will follow them both with interest.
Special Yearling
Entries: 8 Absentees: 1
1st: Mrs B Roderick, Barterhound Twister ? A lovely class and a close decision between 1 & 2. Dog took my eye with his showmanship and just carried himself so well. 14 mth dog, strong head and expression enough length of muzzle. Good double coat, thick pelt and spannable. Level outline with good rear angulation, would have liked a bit more drive from behind. Very pleased to award. RBOB
2nd: Mrs M Small, Badgerbeck Tree Pipit at Tilmoray JW ? A lovely blue and tan bitch who I have admired since I met her. Showed well and presented in superb coat, moved with purpose and drive. Preferred head on the winner today.
3rd: Alcumlow Spanish Steps
Res: Jenabeck Rose Over Foxfactor
VHC: Otterwood Beck
Post Graduate
Entries: 5 Absentees: 0
1st: Mr B J & Mrs K D Stockley, Rhozzum Keynote with Foxfactor ? A close decision between 1 & 2 today, although different types both had good qualities. Strong head, ears well set, strong clean teeth. Good length of neck, nice shoulders, enough length of rib. Preferred 1 on the move today.
2nd: Mr & Mrs & Miss Barber, Alcumlow Starry Night ? A more racier bitch than 1. Good length of muzzle, strong skull and dark eye. Superb length of neck and well laid shoulders, nice topline, good length of body. Well muscled and strong hindquarters. Presented in excellent condition.
3rd: Tilmoray Tranquility
Res: Sextonmagic Betula of Withershine
VHC: Otterwood Beck
Open
Entries: 7 Absentees: 2
1st: Mr B J & Mrs K D Stockley, Foxfactor Hornblower JW ShCM ? I was so pleased I stayed to watch BIS what a day, well done and well deserved. A super dog who owned the ring the moment he walked in and showed himself even better in the BIS ring. Strong head and muzzle, broad skull and ears well set. Moderate length of neck, level topline, well set tail and carried true. Coat tight and thick, enough pelt, easily spanned. Moved true both ways. A pleasure to award BOB. G1, BIS
2nd: Mr & Mrs & Miss Barber, Alcumlow Starstruck ? A cracking dog who I think has got better with age. Shown in excellent condition, super fit and well muscled. Strong head and expression, good big clean teeth. Super length of neck and topline good. A bit excited by the whole day and movement not as true as it could have been.
3rd: Conundrums Blue Legend at Southash
Res: Gameway Cappucino of Withershine
VHC: Tulawyn Oberon at Tilmoray