Show Notes: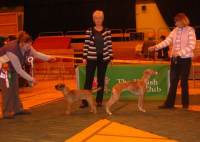 Brockfox Beretta BOB, Terrier Group 1 & BIS)
Judge: Mrs. Trudi Baird (Dowgri)
Terrier Group Judge: Mrs. Melanie Lewis (Tonromel)
Best in Show Judge: Mrs. Christina Bailey
Barnett's Brockfox Beretta
BOB

, Terrier Group 1 &

BIS

I wish to thank the WKC for their invitation to judge at their Open show, I was aware that the day clashed with Boston Ch show terrier day, so it was with slight apprehension that I accepted the invite. I needn?t have worried as I had an excellent entry both numerically and in quality, thank you to the exhibitors for your support and the WKC for their warm welcome. My main winners were all correct for weight and could be spanned with ease, a couple of the Males were presented far too thick and heavy being unspannable.
Puppy D/B
Entries: 7 Absentees : 1
1st: Larner's Hawcoat Sweet Fairy BP & PTG2 Very eye catching 6 month light G/T bitch, pretty head with dark eye, neat ear, excellent bite, good front & feet, narrow throughout , nicely angulated rear, correct tail and set, in superb coat with very good pelt, moved out well, loved her size & outline.
2nd: Hand's Lutrabeck Liberty 7 month G/T bitch, lovely outgoing character, feminine head with lovely expression, excellent bite , narrow throughout with good length of rib, correct tail and set , moved well once she settled to the job, not in the jacket of 1st.
3rd: Marriott's Rhozzum Union Rose at Crewshill
Res: Larner's Hawcoat Blue Bertie
VHC: Larner & Lumbard's Hawcoat Starina
Junior D/B
Entries: 3 Absentees : 0
1st: Phillips' Aurgwen Alyth 15 month G/T Bitch , very appealing head , correct bite, lovely straight neat front, liked her size , very harsh coat with lovely thick pelt , narrow through shoulder and rib, tail and set correct , very sound on the move, close up for RBOB but lost her enthusiasm.
2nd: Loder's Porthcawl Rhian 10 month G/T bitch , head ok but lacked strength in muzzle , correct bite, narrow throughout which clinched her place, bit straight behind , handler didn?t help the picture by overstretching here, moved out well.
3rd: Evans' Jenabeck Pheobe
Post Graduate D/B
Entries: 1 Absentees : 1
Open Dog
Entries: 7 Absentees : 1
1st: Hand's Lutrabeck Likewise RBOB 3yr G/T dog of lovely size, scored in head and expression, correct bite, narrow throughout with good length of rib, neat front and feet , short but harsh coat , moved out well , wish he showed with more verve.
2nd: Larner's Hawcoat Double Expresso 3 yr G/T dog, same sire as winner with same narrow body and rib, sparkling condition with thick full jacket of great texture and tough pelt ,moved very well just preferred 1st?s more typical head.
3rd: Spencer's Caznray Double Trouble
Res: Evans' Jenabeck Cie Coch of Nogard
VHC: Maggs & Wills Clipstone Brown Spa
Open Bitch
Entries: 4 Absentees : 1
1st: Barnett's Brockfox Beretta BOB; Terrier Group 1 & BIS Barnetts Brockfox Beretta 3yr red bitch so full of type , well presented in the best full harsh jacket with thick pelt, my idea of a correct Border head with gorgeous expression, narrow through shoulder and rib, good thick tail well carried, moved with enthusiasm showing her socks off, could not deny her BoB & pleased to watch her win Group 1 & BIS
2nd: Phillips' Aurgwen Alyth
3rd: Barnett's Brockfox Breeze